Gathering eggs, raking leaves, picking what's left of the summer plants in the garden and taking care of fall vegetables popping up through the dirt can be messy. You're likely on the ground, getting your hands into the dirt and maybe carrying poop covered eggs in your shirt pocket.
But why shouldn't you be comfy while doing what you love on your homestead?!
Sarah McBride, an entrepreneur out of Chester County, Pennsylvania owns Adventure Style Boutique, an online clothing store, which is also offers accessories and home decor geared towards adventurers, nomads, tree huggers and Jesus lovers. She has partnered with Rise Apparel, so she can offer amazing styles to her customers.
She enjoys running an online store because it allows her the flexibility to raise her two little girls at home and still make money to contribute to her family. Her Facebook Group is Adventure Style Boutique. Join her there for new items weekly, style reviews sales and giveaways. She even offers Sezzle, so you can pay off your order in four payments. 
Without further ado, here are the top 5 picks for fall that are perfectly comfy and easy to work in on your homestead: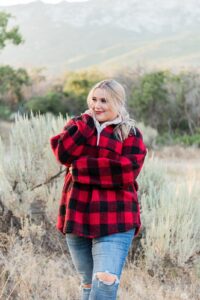 I love this piece because I love that time right before winter when you can smell the cold, snowy air coming in, and the light flannel just isn't cutting it anymore. This Buffalo Plaid Pullover can be thrown on right before you head out in the morning to tend to your animals or check on your plants. It would even be cozy next to the stove in the evening with hot chocolate in your hand and a favorite book. It's currently in stock from Small to 2X. The model is 5'7″, typically wears a size 16 and is cozy in her 2X.
It's hard not to love a vest. It's just versatile. You can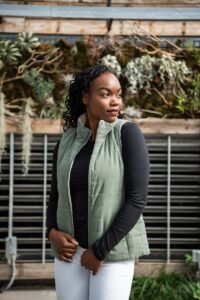 throw it on over a long sleeve in the morning and shed it for the afternoon when the sun warms up your homestead. This piece is reversible, and the material is super sturdy. Lou is wearing a small vest; she is 5'3″ and normally wears a size 3. Also available in small to 2X.
Aztec print is always a winner for me. I love the pattern, and it's perfect on this cardigan. This material is stretchy, so you can size down for a more fitted look, stay true to size for an "in the middle" look or size up for a super cozy piece that's perfect through the winter. Corin is wearing a size small and normally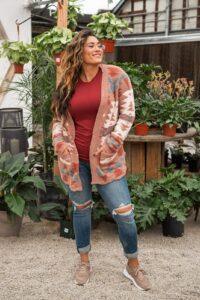 wears an 11/12; she's 5'5″. 
The Henley is timeless. It's just cozy. I love the buttons at the top, and it comes in black and tan. Also, the knotted bottom can be knotted or not. I would probably wear it knotted out on the homestead, and I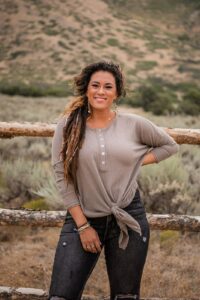 would unknot it, if I'm just hanging around the house drinking coffee. Corin normally wears a 10/11 and is sporting a large.
A beanie is essential. It's a need in some of spring, some of fall and all of winter. This beanie comes in so many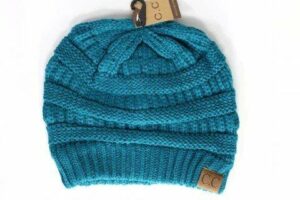 great colors, like teal, olive, rust, black and lavender. This is a solid knit, so it will keep the warmth in well. The teal beanie is my favorite.