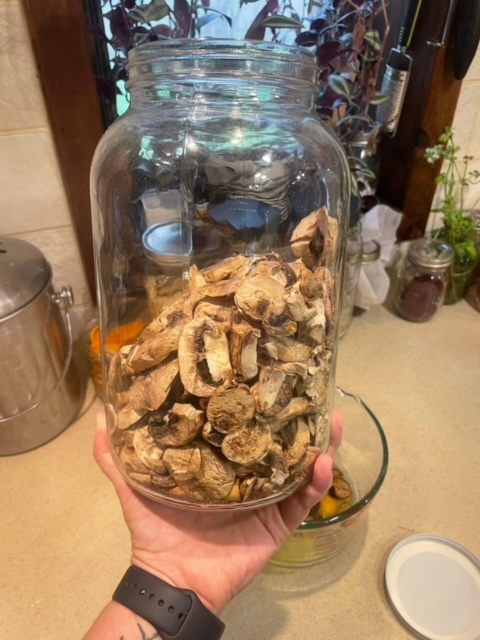 Food preservation Freeze Drying – Storing Foods 
Storing meat in a freeze dried state helps free up space in your chest and upright freezers. When the power goes out or the generator is out of gas, you don't have to worry about losing all of your meat. When it's freeze dried, you just add water, and you have a meal! You can heat or not. 
We cover working with vegetables, fruits, meats, eggs, and anything in between. You'll learn about mylar bags, oxygen and moisture absorbers, and how to properly store the food you worked so hard to prepare. 
Fruit can be eaten as is. Our kids love to just have bags of strawberries or bananas on hand as snacks. You can even store those types of foods in mason jars, and they can just sit on the counter ready to dish out to the family! 
Some of our favorite freeze dried foods are strawberries, bananas, peaches, mangoes, and pineapple. For practical uses, we love having freeze dried venison, bison, chicken, and turkey on hand. These are so quick to add to meals after long, busy days. 
Veggies are so easy to add to soups, and for the most part, they will just rehydrate in the soup with broth. You can also add things like snap peas to the top of your salad as a crouton.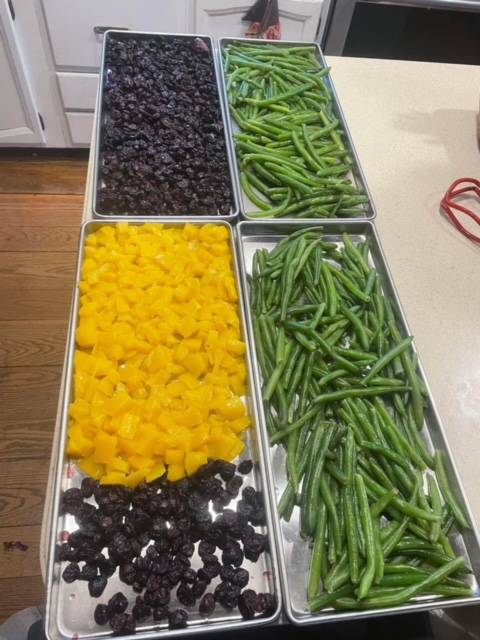 Food preservation Freeze Drying – Getting Started and Setup  
Getting started with freeze drying can be scary. It's an expensive machine, you're learning its ins and outs, and you're trying to make sure you prep and store the food you worked hard for well. 
You'll do a bread run when you get your machine. Basically, you put cheap white bread on the trays, do a batch, and make sure everything is good to go. This will also help get some of that "new car smell" out of the machine. 
If you have any trouble with this process, customer service is always a phone call away. We had to work with customer service when we got ours because our screen wasn't working. They sent us one right away, and we got it replaced. I also had issues with not achieving vacuum, and it was because the epoxy wasn't done well where the line comes into the back of the machine. 
While these things were of course super frustrating, customer service did help me get the problems resolved. They communicated via email when we had to share files, and they always answer the phone. 
You will want to make sure you have a flash drive available, in case you need to share files with Harvest Right.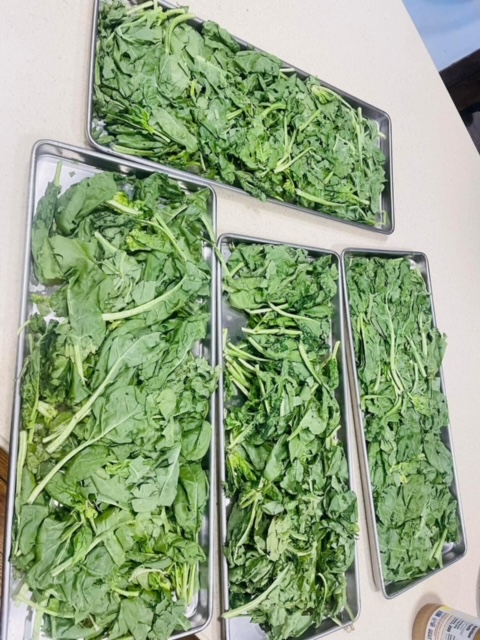 Food preservation Freeze Drying – Helpful Accessories 
Other accessories that we enjoy are an extra set of trays, a rack to hold the trays in the freezer, a sharpie to mark bags, a stock of mylar bags and oxygen absorbers, and you might consider some reusable parchment papers to make clean up of your trays easier. 
We have our freeze dryer setup on a sturdy table in the basement. You'll want to have a nice surface for your freeze dryer, like a sturdy cart or table. Also an easy to clean surface is best. Somewhere that your pump can sit next to or under the freeze dryer is also helpful. We keep the impulse sealer right next to the freeze dryer, too, as that's needed to seal up your mylar bags before storage. 
We've some things along the way, and here are some of my top tips for freeze drying: 
1. Have a sturdy table and work surface. Have a tote or something to keep your scissors, marker, maybe a notebook, some oxygen absorbers, and mylar bags in. Having everything in one place makes life so much easier when it's time to pack your food up. A canning funnel can also be helpful for bagging certain foods. 
2. Make sure your hose is draining into a bucket. Our hose has gotten knocked more than once, and we have to deal with a puddle on the floor during defrost. Also ALWAYS close the drain valve, or you will not achieve vacuum. 
3. Don't be afraid to try new things! Pouring a pitcher of raw eggs onto your trays might seem weird, but it's an amazing way to put up an overabundance of eggs in the Spring/Summer. Also, like canning, only freeze dry what you'll actually eat and enjoy. 
Food Preservation Freeze Drying Advantages and Disadvantages
The advantages of freeze drying are AMPLE. You can keep food up to 25 years, you can create food security, you can save leftovers from the trash, you can preserve food from local farmers, you can diversify your garden harvests between freeze drying, canning, freezing, and dehydrating, and you can just feel GOOD knowing you have food put up for your family. 
The one and only disadvantage to a freeze dryer is the price. BUT once you have the freeze dryer and start using it to create food security, you will totally feel that the price is justified.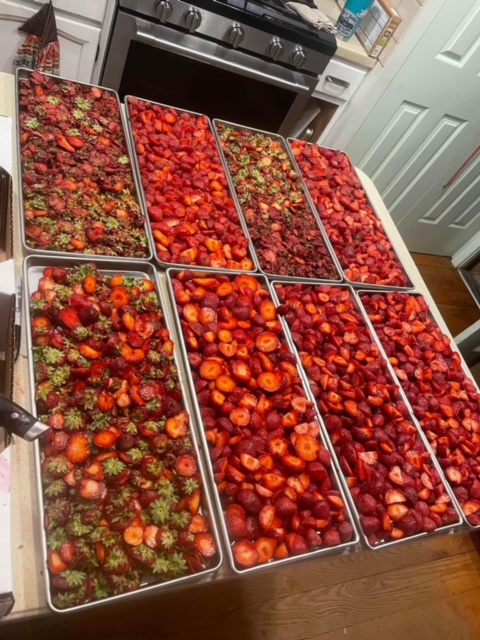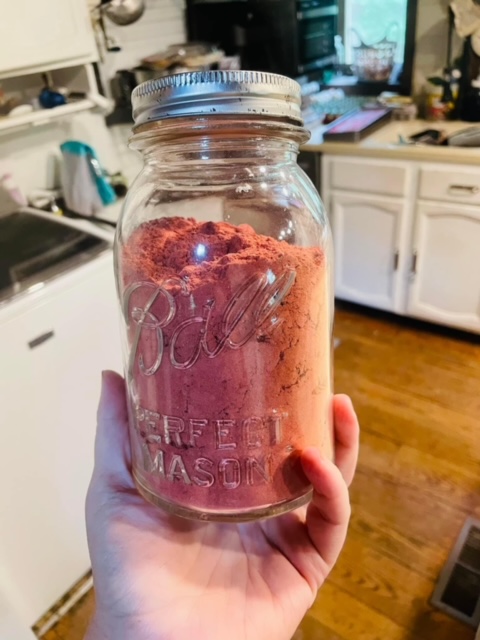 There are several freeze-drying food preservation examples in this post through pictures. If you want to know about a food in particular and how it freeze dries, reach out. If we've done it, we will be happy to share our experience. Freeze drying at home provides food security. It helps you diversify your stores, and it offers you another way to keep your garden harvests or raised livestock well preserved for years to come.
One more note: don't be afraid of freeze drying meat preservation. We always cook our meat first before freeze drying. This is the BEST way to free up freezer space quickly when you have animals coming back from the butcher (or you butcher yourself)!
Helpful Links
Mandy's affiliate link to buy a Harvest Right Freeze Dryer and extra trays: https://affiliates.harvestright.com/1479.html
Tray rack: www.frozenright.com
Oxygen absorbers and Mylar bags: www.topmylar.com
Rehydration book: https://amzn.to/3NTV0tE
Happy freeze drying!