How to make laundry soap:
Making your own laundry soap may sound like a daunting task, but I promise that it's easy and so cheap. You can make about 5 gallons of laundry soap for about $2. TWO DOLLARS. 
Now, if you are used to the smell of commercial laundry detergent, this can take some getting used to. You might choose to keep a bottle or box of commercial on hand for tougher jobs or cloth diapers. 
Don't forget that you can do a vinegar rinse, too, if your clothes or towels seem really bad that day. 
I have not tried this on my cloth diapers yet. I plan too soon, and I will report back.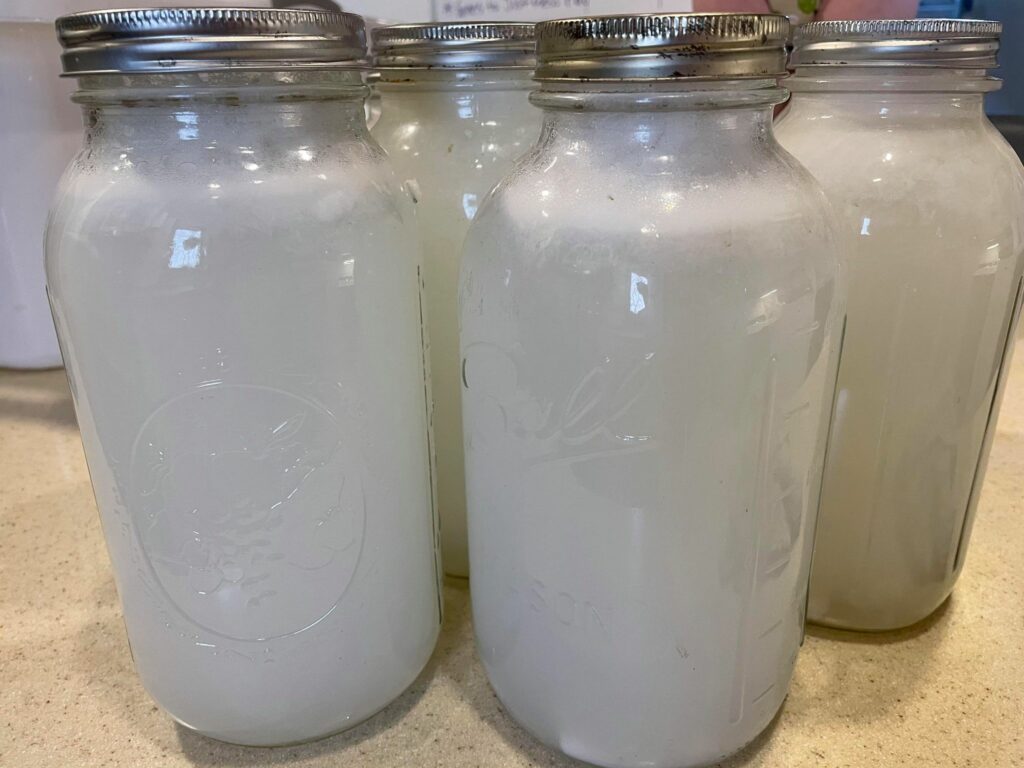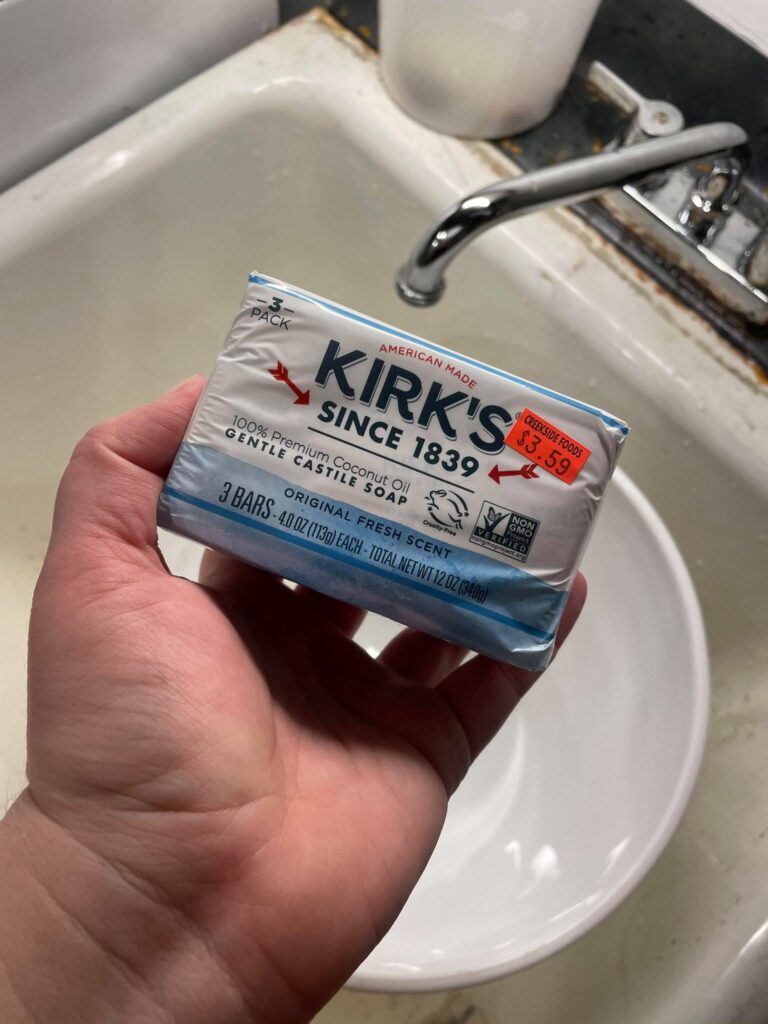 I used to make laundry soap all the time, and recently I decided it was time to do it again. I didn't stop for any particular reason, but I'm so glad to making it again. I really enjoy it, and it saves us so much money. I used to buy Dr. Bronner's Castile bar soap, but I recently found Kirk's Castile bar soap. It's way cheaper than Dr. Bronner's, by half, and it works just as well. 
Dr. Bronner's is about $0.93 an ounce. Kirk's is about $0.45 an ounce. You can buy Kirk's here: Kirk's Castile Soap Original Scent. 
To start the process, you want to cut your soap into small pieces. I use a sharp knife and cutting board, but you can also dedicate an old food processor to jobs like this. I think the food processor has way too many parts to warrant all that cleaning, but that's up to you. A rough chop is great for this. Meanwhile, get 2 quarts of water boiling on the stove in a deep pan or small pot. A silicone spatula is also great for this, as a wooden spoon may leach the soap smell and not be great in the future for cooking food. Again, you could have a dedicated soap spatula, if you want. 
After you chop your soap up and your water is at a rolling boil, slowly and carefully pour the soap into the pot. Be careful not to splash. Stir your soap into the water until it dissolves. It will start to get cloudy and thicken up.
Once the soap is completely melted and mixed into the water, carefully pour the contents into a clean 5 gallon bucket. I do this process in our utility sink, but before the utility sink, I did it in the bath tub. If your sink is pretty deep, it would work there, too. If it's nice out, do it on the porch!
Next, add 1 cup of Borax and 1 cup of Super Washing Soda to the bucket. Side note: I usually buy my soap, borax and super washing soda at our local Amish stores, but not all stores will carry these products. My $2 estimate is based on the prices I get at the Amish stores, but even with buying supplies on Amazon, you're still going to be at under $4-5.
Stir this mixture together until combined. Next, fill your bucket to the top with water. We have good old fashioned tap water from our well, which we use for everything, but you could certainly use bought water – or whatever suits your fancy.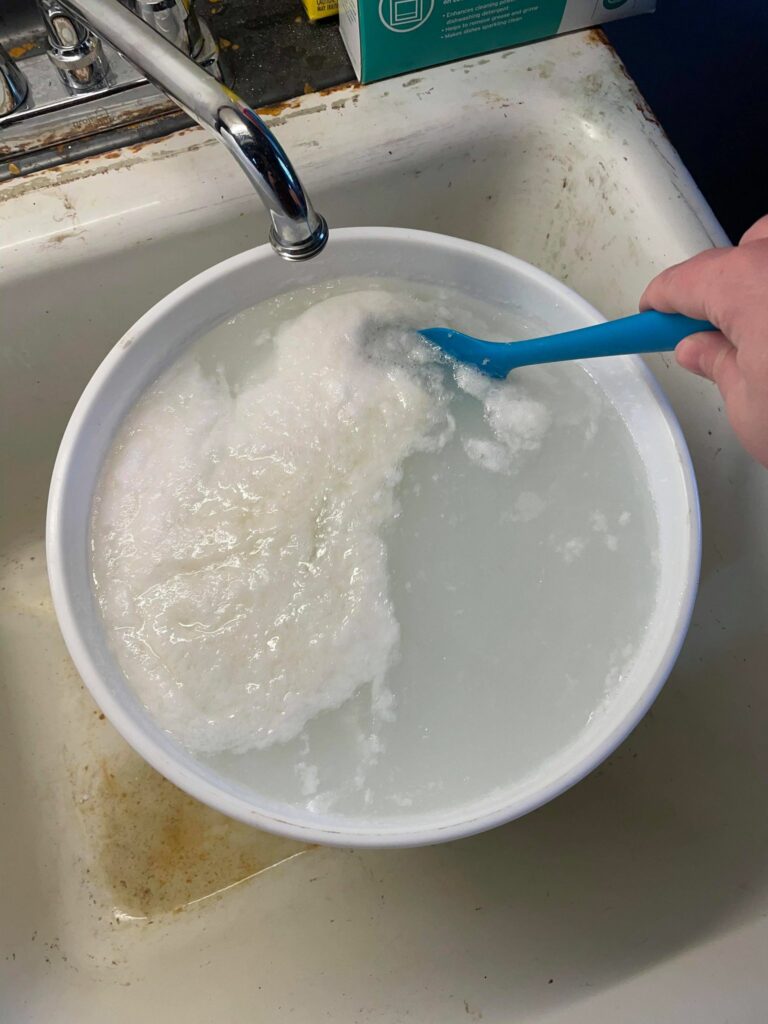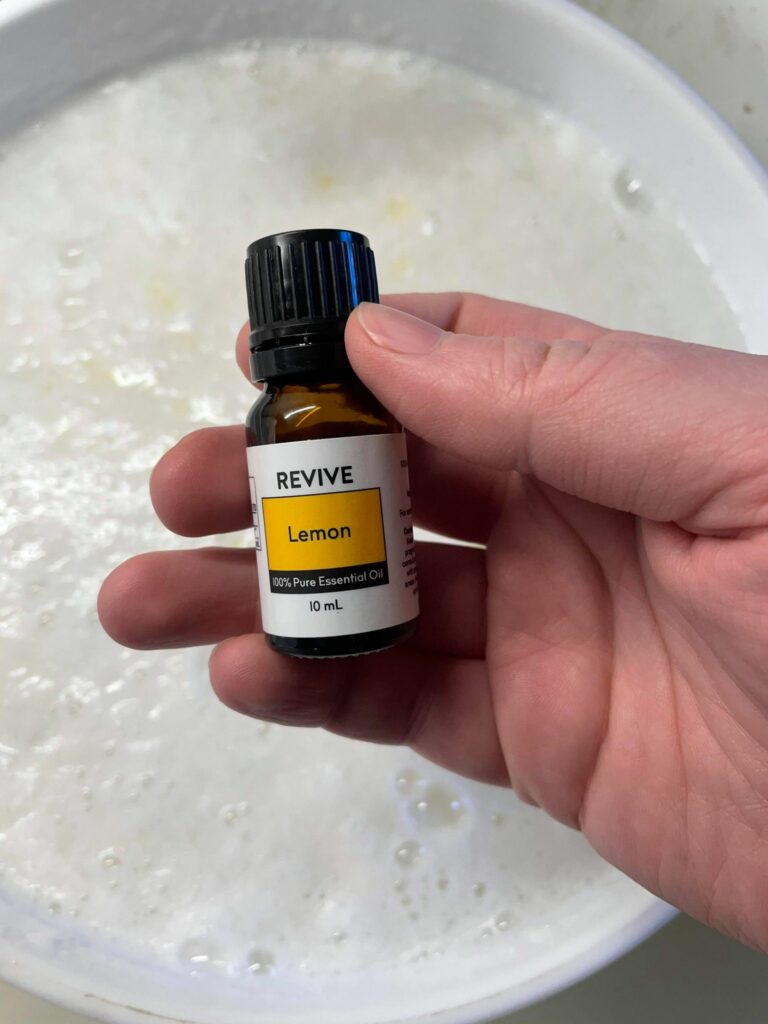 Your soap will probably get thick on top as it sits. I usually let mine sit for 12-24 hours before I bottle it. At any time during this process, you can add essential oil. I like to add lemon, but whatever you love is great. For a 5 gallon bucket, I'll add 20 drops or so. You can totally skip this and just enjoy the nice, natural scent of the castile soap, too.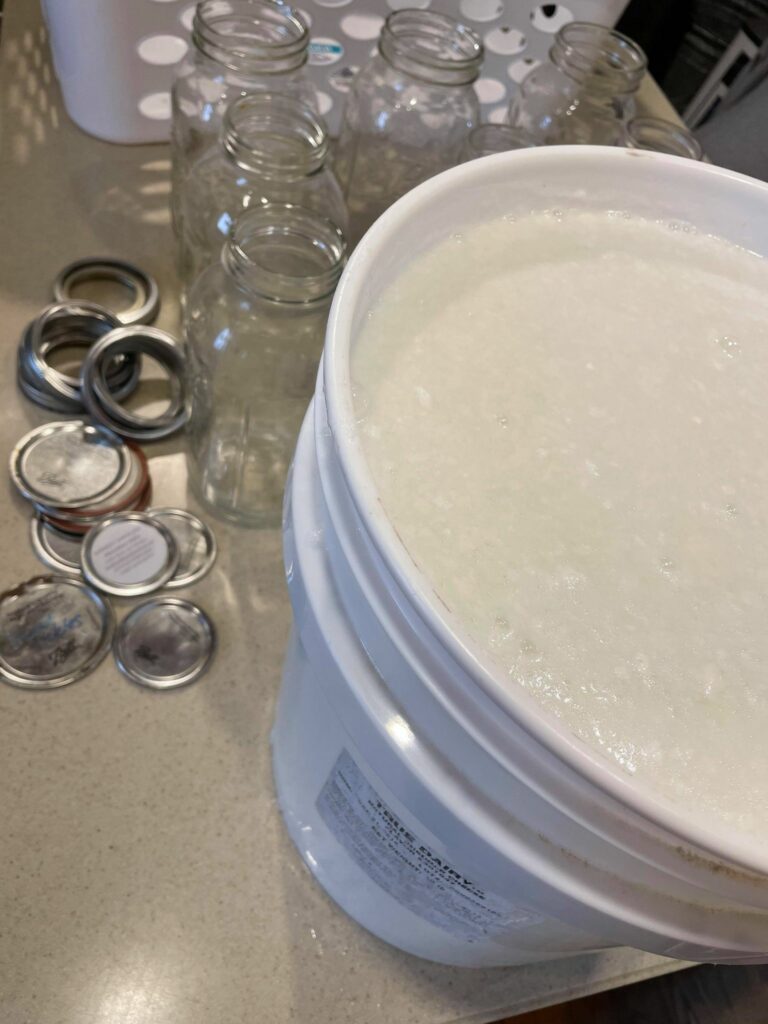 I like to store mine in 1/2 gallon mason jars. It fits nicely on the shelf behind my washer, and it just makes handling and storing easy. I save old lids that I can't can with to use for projects like this. Have 10 jars, 10 rings and 10 lids ready to go. Wide mouth or standard works. A canning funnel works great for filling the jars and keeps the mess to a minimum. Once you're all set up with your bottling supplies, get to scooping! I use a skimmer to get any chunks off the top and put a little of the chunky stuff in each jar first. Then, I use my big scoop to fill the jars.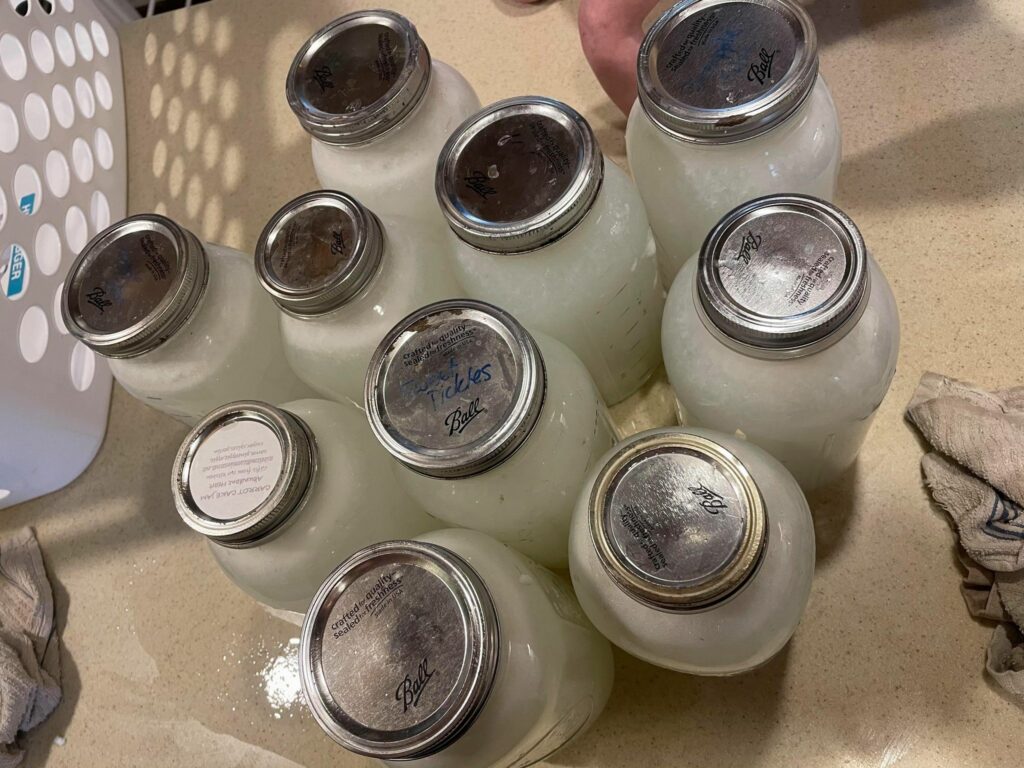 Once they're all filled, you're done! Just store wherever is convenient. You've just learned how to make laundry soap that costs about $2 for 5 gallons. Enjoy! 
If you want other tips for saving money on your homestead, check out my Homestead Guides. They come out every month with great tips on freezing, canning, gardening, raising chickens and making your homestead everything you want it to be!