If you landed here, you're likely considering a home birth and trying to glean all the information you can before making a decision. Or maybe you've already made the decision, and you just want to be as prepared as possible. 
First, I am not a medical professional, so this is not medical advice. This is simply my experience with home birth that I'm sharing with you. Also, I am not against hospital births, and I obviously realize that they are necessary in some instances. I just want to tell you about our peaceful home birth that was done safely and how it's not as scary as it may sound, if it's something you desire to try.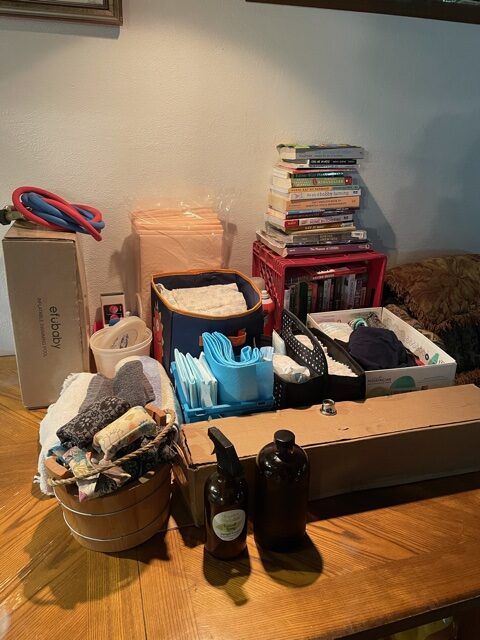 How to Prepare for Home Birth: Consider Your Past Experiences
I had my first child in a hospital. I had just turned 21, and frankly, I don't even think I knew home birth was a thing. I went through all the motions of a typical hospital birth. I went to the appointments, drank the orange radioactive looking juice to test my sugar, got an ultrasound at 20 weeks to learn the gender, got induced at 41 weeks with Pitocin, and stayed 3 days in the hospital just to be monitored after birth. 
I thought this was what everyone did that was having a baby. My experience wasn't "bad" per say, but it was certainly not great. I felt poked and prodded, pressured, and like I had zero autonomy over my own birth. My first child was healthy, all was well, and I'm sure the staff did all their usual due diligence, but it just wasn't something I wanted to experience again, if I could help it. 
How to Prepare for Home Birth: Research. Plan. Ask Questions. 
I was always content with just one son. He's funny, loving and usually a very happy kid. I divorced my oldest son's dad when he was very young, about 3, and I married the love of my life in 2016. Zad had testicular cancer in 2009, and we just weren't even sure we could have kids because of his chemo history. We were fine with it. We made the most of life as a family of 3, traveling and enjoying life. 
In 2018, what I thought was my period went on and on and on. It lasted about 15 days. I took a pregnancy test around day 6, as my period normally only lasted 4 days or so. I was pregnant. We could barely believe our eyes. Deep down, though, we knew something must not be right, as I kept bleeding and bleeding. I got a blood test, which showed pregnant, but my hCg had dipped way down. The doctor called to tell me that we lost the baby. 
Crushed. 
There just wasn't another word for it. We didn't even know we wanted baby, but once having a baby became a possibility, we were so ready to take on a new addition to our family. We decided to name our little girl Emma. 
It took several months for us to feel "normal" again after losing Emma. It still hits us at random times out of nowhere, but we are healed and know she's well cared for by Zad's dad and brother, lots of grandparents and so many others. 
In November 2018, we were pregnant again. Terrified and pregnant. Would we lose this one, too? We honestly didn't even feel confident that this baby would make it to us alive until probably 18 weeks or so. It was a rough pregnancy. I had morning sickness till about 20 weeks which then turned into dealing with placenta previa (the placenta was coming out before baby, so modified bed rest, no sex and lots of water) and from week 30 until a few weeks post birth, I suffered from PUPPPS (the most horrible poison ivy feeling rash that covered my entire body and almost nothing offered relief). 
In the midst of morning sickness, I asked Zad how he felt about home birth. He was apprehensive. But after lots of research and learning, we found a midwife that was super local – literally about 5 miles down the road. She was also a friend's mom, which was a bonus, she's covered in tattoos – and she's the most perfect fit for us. I was very adamant about using a CNM (Certified Nurse Midwife). I did not want a lay midwife; I wanted someone who was trained as a nurse, who carried medical malpractice insurance and who had ample experience delivering babies. Kelly hit all those points. 
We asked a thousand questions. We read books. We read blogs. We watched home birth videos. We wanted to know what might happen, what could happen and what usually happens. 
Our doula recommended watching home birth videos to prepare. At first, I wasn't so sure about this, but I've now watched 100's of home birth videos. It gives you an odd sense of comfort knowing you aren't alone and that you are strong enough to do this. 
I read this book cover to cover. (If you order this book – or any other tagged products – from my link, I make mere cents on it.)
I also always wrote down questions for my midwife in between appointments. If it was urgent, I texted. She's the best. She's funny but professional, she doesn't 911 things that aren't emergencies, and she doesn't pressure you to things you don't want to do (i.e. induce labor, get an ultrasound, etc). 
How to Prepare for Home Birth: Decide What's Important to YOU
When I think about how to prepare for home birth, I think about all the things I LOVE about making my own choices and how home birth allows so much more freedom than a hospital birth. 
My favorite parts of home birth are that my midwife comes to our house for appointments, she simply has me eat breakfast and 2 hours later checks my sugar, and any blood tests are done from the comfort of our couch. She doesn't even do a blood test to confirm pregnancy; we simply go by the stick test. We also chose not to have an ultrasound this time or find out the gender, which is pretty exciting. 
AND – after birth, our midwife hangs out for about an hour, checks vital, delivers the placenta and gets it ready for pick up by my placenta encapsulator – and then she goes home. We just have peace. She will text and check in and comes back 2 days later and 2 weeks later to see how it's going – but there is no hooked up to machines, being checked every hour, having sleep interrupted and all the other unpleasantries that come along with a hospital birth. 
How to Prepare for Home Birth: Organize, Clean, Make Lists
My midwife provides a booklet that has really almost any question you might ever have about pregnancy and birth. AND she puts a checklist near the back that shows you how to prepare for home birth.
I have notes all over the birth list. The first time we did home birth, which was in August 2019, I rented my midwife's birth pool, which she left with us around week 37.
This upcoming birth, we bought a pool (click the link to see which one we got) because I was too tall for the standard birth pool. I couldn't stretch my legs out, and it was making me crazy. For $40, it was totally worth not stressing over while I'm trying to get comfortable laboring.
We usually do a BIG house clean around week 34-36. Literally dusting every single thing, pulling out every piece of furniture, scrubbing the dark corners of the fridge, inventorying food, etc.
Having a deep cleaned house several weeks ahead allows us to just have to do a flight of the bumble bee when labor starts. Easy stuff like wipe the bathrooms, wipe/mop kitchen, put a basket of laundry away and so forth.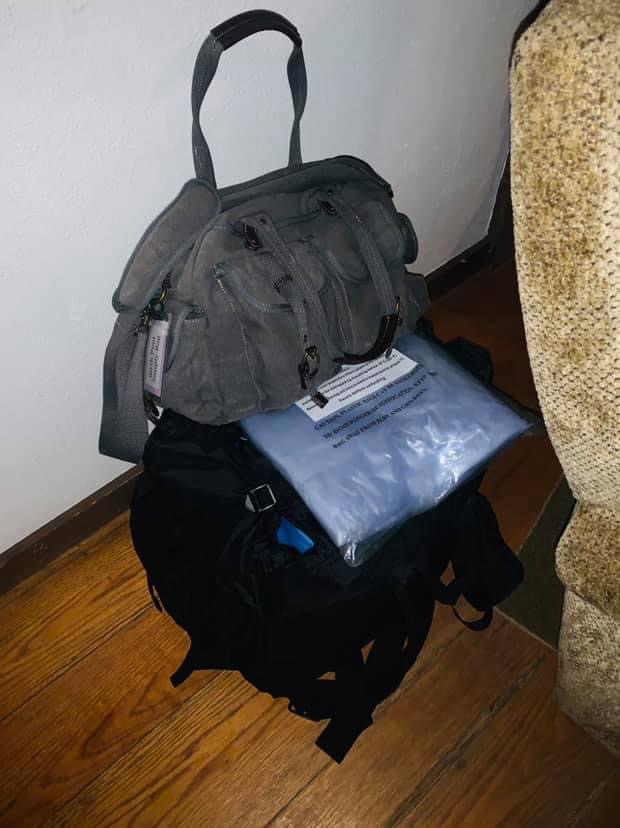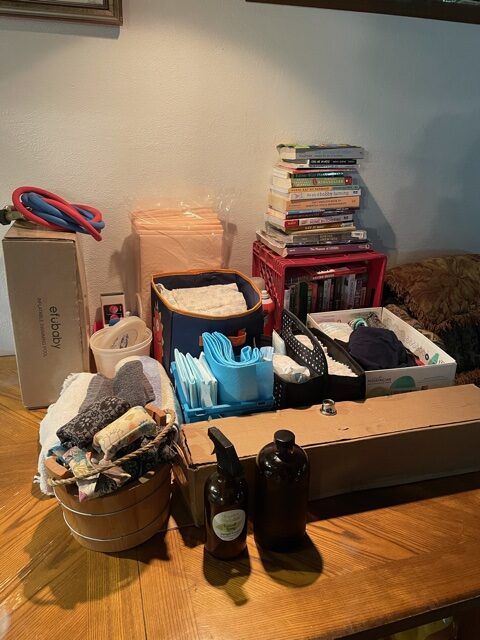 How to Prepare for Home Birth: Make a Birthing Space
Around week 38 or so, we start a pile on the dining room table with all the essentials: 
pool, hoses for pool, XL bed pads, bucket for placenta, plastic for couches/floor, tarp for under pool, baby clothes (2 set of pajamas in newborn and premie, just in case), disposable diapers in newborn and premie (we cloth diaper, but the first few weeks just aren't worth the added work to cloth, in our opinion), wipes (again we use cloth wipes but not till a few weeks in), ibuprofen and acetaminophen, a newborn bulb syringe and towels. 
We also make padsicles about 2 weeks before the due date, too. This involves pouring either comfrey tea on cloth pads and freezing flat, or we use a brew made by Homestead Holistics that contains Shepherds Purse. It's by far my favorite. 
Be sure to put some foil sheets in between your pads and put in a plastic freezer bag to freeze to prevent them from sticking to other things or each other. Having these prepared will help you get relief post birth fast. I use these pads. 
How to Prepare for Home Birth: Mindset
Once you have all the above done, you're probably getting close to your due date. Whether this is your first birth, or you've had hospital births in the past, you will need to prepare your mind.
My second child – first home birth – happened fast. I was bouncing on the yoga ball when my water broke, and 4 hours of labor and 4 minutes of pushing later – he was here.
I did choose to have a doula for our first home birth, and I am so glad I did. She helped me through breathing and other exercises while my husband and oldest son set up the pool and prepared the couches. We are not using a doula for this upcoming birth, as we felt like we knew the routine, and we absolutely trust our CNM.
How to Prepare for Home Birth: Accept that the Hospital May Still Be on the Table
Don't forget to pack a hospital bag, just in case. You never know when things might turn and you need to transfer. Better to be prepared and not need it. I struggled a little with packing a hospital bag, probably because I didn't want to accept that being transferred might happen. But after talking to my midwife, she assured me that a very small percentage of home births need to transfer and that I would be much happier having my own clothes at the hospital, if we did have to go in.
We keep our hospital bag simple: 2 sets of baby clothes and 1 set of clothes for each of us. We figure that we can always have a family member bring in extras, if the stay becomes extended for whatever reason.
How to Prepare for Home Birth: Relax and trust yourself.
Having a prepared home and prepared mind will give you peace before, during and after labor. You won't be stressing about how filthy the window sills are or how you forgot to pick up plastic to cover the couch. You can simply focus on breathing, your baby and having a beautiful home delivery.