Unique Valentines Day Gifts
Unique Valentines Day gifts under $25 for your loved one is hard to find year after year. You want to find something unique and exciting, and sometimes those things are best found hidden in cool online shops from the small businesses that put love and care into every single piece.
Check out these unique Valentines Day gifts that are versatile and great for partners with a variety of interests and tastes.
Rustic Horseshoe Heart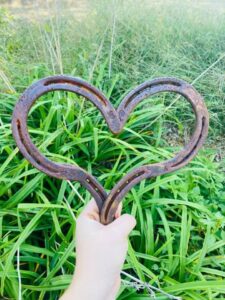 Our rustic horseshoe hearts are made of 3 horseshoes that have tons of character and charm. They have rust, and each one is made by hand. You can hang it indoors, or you can hang it outdoors and let it continue to rust. All of our horseshoe hearts will be unique, as when we shape and weld them, there will be differences. Share this beautiful heart decor with your special Valentine, and it will be enjoyed for years to come. Cost $25
Order here: https://www.chapelhillforge.com/product/unique-rustic-horseshoe-heart/
Wine Bottle Holder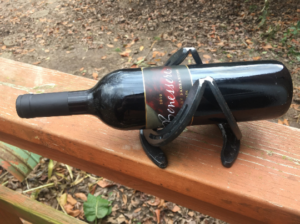 Wine is often a staple of Valentine's Day. Whether you go out to your favorite restaurant, or the pandemic keeps you home to enjoy take out or a home cooked meal, a bottle of wine will complete the day. Our wine bottle holders don't take up a lot of room on your counter or tabletop, so it will fit well in any space. It's painted black, so its finish complements any type of decor. Fits a standard size wine bottle and is great to display next to your beautiful candlelit meal this Valentine's Day. Cost $25
Order here: https://www.chapelhillforge.com/product/wine-bottle-holder-rack/
Need great wine to go with your holder? Check out a local to Lancaster, PA favorite: Britain Hill Winery!
Nail Heart Necklace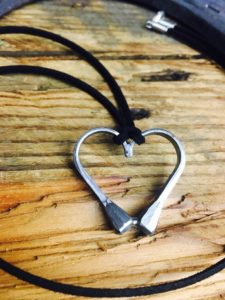 Does your love enjoy jewelry? Even on Zoom calls, the pretty piece of jewelry can make you feel like you can tackle the day. Our nail hearts are made by hand one at a time. They are made from horseshoe nails, and their silver color makes them easy to pair with any outfit. Choose your necklace cord color; black is our most popular! Cost $18
Order here: https://www.chapelhillforge.com/product/heart-necklace/
Nail Heart Earrings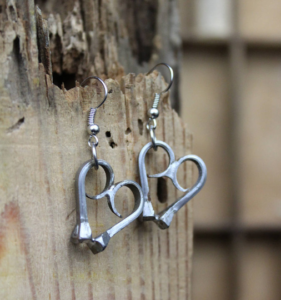 So many are at home working and on meeting calls all day. Even if you aren't wearing real pants, a pretty pair of earrings will make you look like you have it all together that day. Our nail heart earrings are made from horseshoe nails, heated to make their horseshoe shape and welded together for long lasting stability. Cost $20
Order here: https://www.chapelhillforge.com/product/heart-charm-earrings/
Nail Heart Bracelet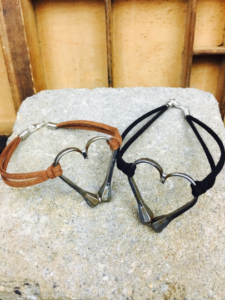 Want the perfect accessory to add to your horseshoe nail heart necklace? The bracelet to match is the perfect choice. We offer several cord colors for the bracelet, and we can make it to your size specifications. If you don't specify a size, we will make it 7″ around. Grab the earrings, too, and your love will have the perfect set of accessories for your special Valentines Day dinner! Cost $18
Order here: https://www.chapelhillforge.com/product/heart-charm-bracelet/