What is a utility sink? 
A utility sink is a large sink that is typically in a laundry room, garage, bath or kitchen. We recently installed ours in the kitchen, and it will be perfect for accessibility. We acquired a cast iron sink for free, and Zad spent about $40 to retrofit some existing pipes to get it up and going.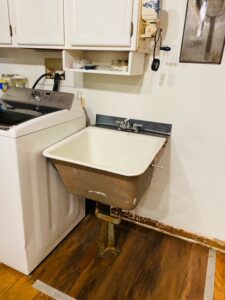 A utility sink is usually a large, deep sink that's great for scrubbing and not splashing outside of the basin or for filling large pots. If you're shopping for a new sink, check out one like this. 
What can I use my utility sink for?
Cloth Diapers: We are going to use our utility sink to wash cloth diapers. We used to wash diapers in the kitchen sink, but it definitely made for a lot of splashing. Now that the utility sink is right next to the washer, we can put the pee diapers and inserts in the washer, scrub the poop diapers and off to the rinse cycle they go! No delicately carrying the dripping diapers from the kitchen sink to the washer or reloading the 5 gallon bucket to dump them into the washer. 
Canning: Filling huge pots for canning is always a challenge in a normal kitchen sink. We have a commercial dish washing faucet with a long hose, which helps, but with the utility sink, we can just sit the pot in the basin, fill it and get to canning. It will also be great for washing sticky jam coated pots this Spring. Not sure how to get started canning, follow our Homestead Guides.
Baby baths: If you've ever washed a squirmy baby in a sink, you know how messy it can get. The utility sink is deep, so it's great for wiggly babies and excited toddlers.
Scrubbing boots and clothes: If your homestead gets muddy, your kids snow boots get gross, or you just need to scrub or soak some flithy clothes, the utility sink is a great size. You don't have to worry about taking up your bathtub or kitchen sink for soaking and scrubbing. 
How hard is a utility sink to install?
We were fortunate that the previous owners had a utility sink in that spot – many years ago. There were some old pipes that Zad was able to make work. If you have no water or pipes run to your desired spot and don't have plumbing skills, it might be worth reaching out to your neighborhood plumber. We were able to grab some supplies from the local hardware store, as well as a janitor's style faucet, and we were in business. We loved the janitor's style faucet because it sticks out farther than a traditional kitchen faucet.