How to Use 5 Gallon Buckets for Food Storage
People often tell me that they don't have room for food storage or that they worry about mice. Sometimes they just feel like they don't have the money to spend on storing food properly.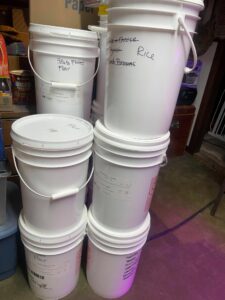 I'm here to tell you that there's a solution to your problem, and it's 5 gallon buckets. Using 5 gallon buckets for food storage will save you money and help you feel prepared. If you ask the right people, you can usually easily find 5 gallon buckets for free or cheap. Grocery store bakeries are a great place to start. Ask restaurants. Anywhere that buys icing, cheese sauce, etc in bulk probably has a surplus of 5 gallon buckets. 
The lids that come on them aren't great, but if you can't afford Gamma Lids, they'll work. You just might have achy fingers or broken nails by the time you're done. I know the price of Gamma lids has gone up since the pandemic, and they might seem expensive, but it's one of those things that you'll only have to buy once. 
Gamma lids twist on and off your buckets so easily that once you use them, you'll hate the standard tear strip lids. 
When you get your upcycled 5 gallon buckets, you'll probably need to wash them thoroughly. Ones we've gotten in the past usually have crusties of some sort. Fill your bathtub and soak them, or wash them outside with the hose. Bring a good sturdy sponge and some Dawn. 
Once your buckets are clean, let them dry completely. You do not want to put dry food into a damp bucket. It's a sure fire way to get moldy food. 
Now you need to decide what to keep in your buckets. Before we bought the black industrial tubs for things like crackers, cereal and dried fruit, we used our 5 gallon buckets. Our favorite things to store in 5 gallon buckets now are rice, flour, sugar, salt and potato flakes. If you were paying attention during the height of the pandemic – March 2020, you'll know that all of these things were hard to find. Just another reason to buy in bulk and always have those supplies on hand. You can always whip up something with some of those supplies to feed your family. 
We shop for those 5 dry goods at Sam's Club, usually. With a Plus Membership, you get free shipping, you can shop in store, or you can do curbside pick up. You just can't beat it. If you run on a great deal at the regular grocery store, don't hesitate to get the smaller bags. You can always just drop those right into your buckets in their bags. 
When you buy flour, make sure to freeze it for 48 hours. This will kill weevils (those annoying little bugs that sometimes show up in your flour after a while). You can choose to store your flour in the bucket in its bag, if it fits. If not, just dump the flour into the bucket. This is why getting food grade buckets, like from a bakery, is important. 
Rice, potato flakes, salt and sugar aren't at risk for weevils, but they are obviously at risk for mice or other rodents. We like to get these in their bucket(s) as soon as we get the bags home. Storing your food well can start with learning how to use 5 gallon buckets for food storage. 
Another great thing about 5 gallon buckets with Gamma lids – they store so easily. You can stack 4-5 safely, in our opinion, in a corner of your basement, spare room or wherever you have space. 
Besides our surplus food storage, we keep a bucket of each of these in our stairwell just outside the kitchen door. This frees up room in our pantry, and with convenient scoops in the buckets, we can fill an ice cream bucket or other vessel while we're busy baking or cooking. 
Want more tips on becoming self sufficient and storing food? If you loved this article on how to use 5 gallon buckets for food storage, check out our March Homestead Guide. It's full of tips for choosing seeds and soil, as well as a planting guide. 
Watch for our blog coming up about how to use 5 gallon buckets to grow strawberries!