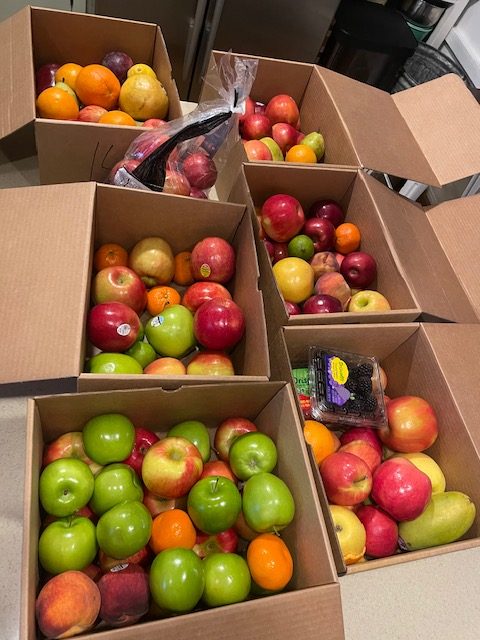 Do you know how to save money with the Flashfood app? If not, you are missing out! I learned about the Flashfood app from a friend a few months ago. I downloaded the app right away and started shopping! 
I was nervous. New app. Didn't exactly know how it worked. But it's so easy to use. 
Just download the app, choose your radius and start shopping! We have about 5 Giant stores within 20 minutes of our house, which is pretty remarkable considering we aren't really super close to anything where we live. 
In Lancaster, PA, the Flashfood app only shows Giant stores. I have talked to people in other states, and it seems that Flashfood has not hit their areas yet. I hope it is available to you, though! 
We typically get most of our food from local farmers, grow it ourselves or order/pick up from Sam's Club. If you aren't a Sam's Club member yet, you should definitely check it out. Use my referral link to join, and get $20 in e-gift cards! 
When I shop Flashfood, I always look at the produce and meats. While we do get almost all our meat in bulk, like a quarter steer or whole pig, I like to see what deals there are on chicken or other quick dinner type items. We have saved so much money by grabbing a pork loin or boneless skinless chicken breasts at half price. A lot of people comment that Giant is pricier than other stores, especially with our abundance of Amish stores in Lancaster County, and I would tend to agree. BUT if you shop Flashfood and Giant's sales, you can do pretty well. 
I love to shop the produce because there are so many things to do with apples, oranges, mangoes and whatever other treasures you run on in the fruit boxes. 
Fruit boxes are usually $5. I have been weighing my boxes, and they are almost always close to 15lbs worth of produce. You really need to look. Sometimes the boxes are a little fuller than others. On average, when I get fruit and veggies from the Flashfood App, I'm paying less than $0.50 a pound.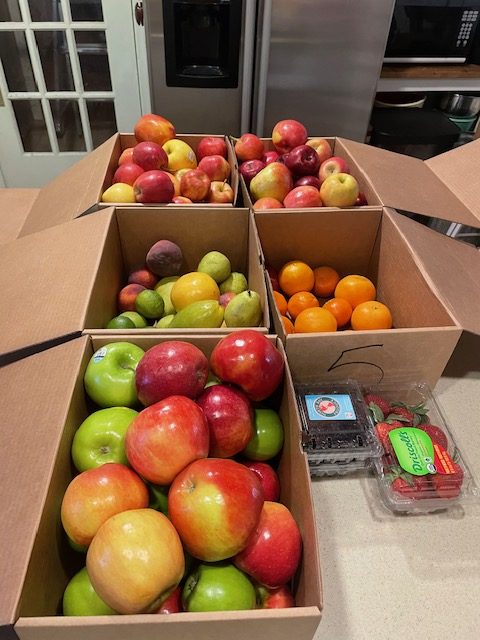 Why do I buy all of this fruit? 
Here are 5 favorite things to do with my FlashFood fruit boxes:
1. Make jellies/jams/butters.
2. Make vinegars.
3. Make cleaning solution. 
4. Make fruit leather. 
5. Make juice to freeze. 
These are all ways to save money with the Flashfood App: 
1. Make jellies/jams/butters
This is the best use of your money when you buy fruit and veggies from FlashFood. If you haven't dove into water bath canning yet, don't be scared. 
A really simple canning recipe to start with is applesauce. We do ours in the Instant Pot, and it's SO fast! We peel the apples with our Dewalt drill and apple peeler, which removes the skins and seeds/cores. Then we put them in the Instant Pot for 5 minutes on high pressure. Release the steam, run the contents through a strainer, like the Victorio Strainer, and you've got applesauce! You can add sugar, if you want, but it is probably not necessary. Ours was plenty sweet!
You can also can Apple Scrap Jelly! This REALLY reduces your waste and allows you to use all the parts! 
Home canning requires following safety practices, so start here, if you've never canned before: https://extension.psu.edu/lets-preserve-basics-of-home-canning. 
We love to chat about canning, so email us, if you have questions!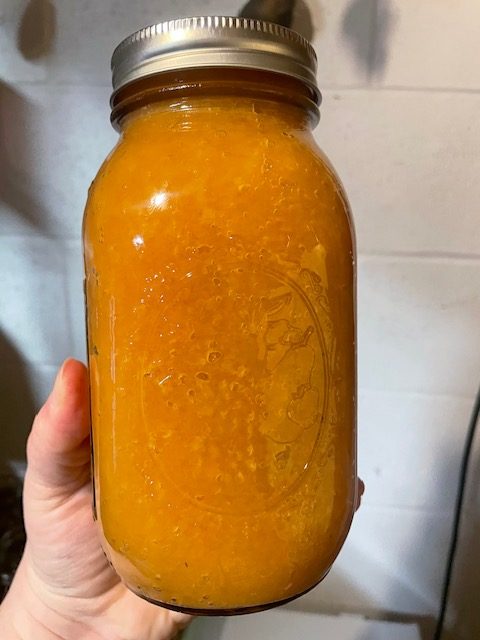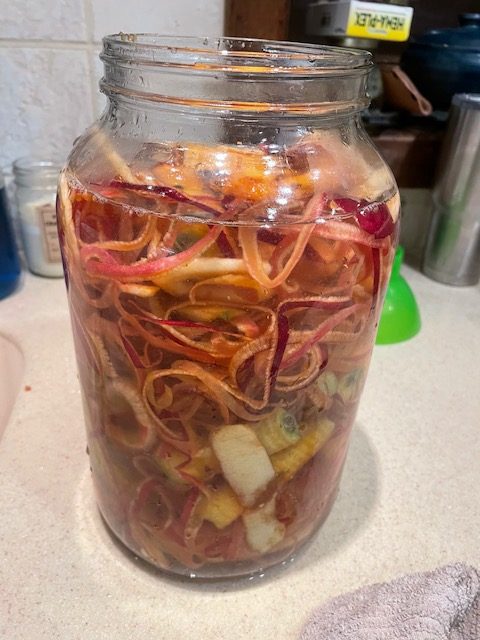 2. Make Vinegars
We LOVE apple cider vinegar in this house. It's good for so many recipes. 
Once you can your Flashfood App finds, like apples, drop them into a jar with distilled white vinegar. Cram the jar full of great apple peels of all kinds, then fill to cover with white vinegar. Cover with cheesecloth or a coffee filter, rubber band it, and sit it in a dark cool room. 
We keep ours in the basement while it's doing its thing. After a few weeks, strain out the peels/cores/seeds, and store in a jar for use with all of your favorite recipes.

Apple Cider Vinegar has even more uses beyond recipes. Try it for preserving food in pickling, use it for cleaning, make a vinaigrette or try it to ease the pain of a sore throat. 


3. Make Cleaning Solution
Let's face it. Cleaning chemicals from the store are full of, well…chemicals. This might be my second favorite way to save money with the FlashFood App. 
Take those citrus peels from the Flashfood App pick up, and make your own cleaning solution!
Cram a half gallon mason jar full of lemon, orange, lime and grapefruit peels, fill with vinegar till covered, put a lid on, and let it sit on a sunny windowsill for a few weeks. Strain, add water to a spray bottle till about half and then add your vinegar solution. You may find you don't even need half full of vinegar solution. This is up to your judgement! Store the extra in the now empty mason jar! You will have "clean" cleaning solution for months and months!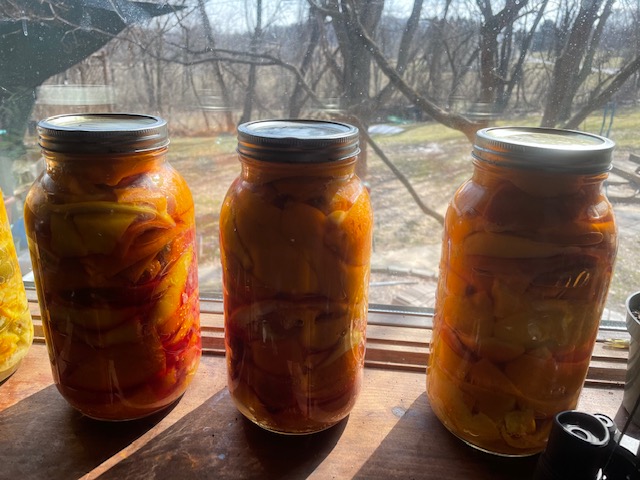 4. Make Fruit Leather 
In our last Flashfood App haul, we got blood oranges, which are SO cool when you cut them open. They have a deep purple color. 
We took the blood oranges and mangoes and made fruit leather. 
Other great options for fruit leather include blueberries, apricots, strawberries, peaches, apples, raspberries, lemons, plums, pineapple and so much more. 
Simply peel and clean the fruit, puree with honey or whatever sweetener you like, pour into your dehydrator in a thin layer on the plastic trays, and let it do its thing for 24 hours or so. 
Your time may vary depending on thickness and moisture content. 
Our dehydrator only came with two trays, so I ordered two more from Amazon. Also check yard sales or Facebook Marketplace. A lot of times people barely use these, and you don't want to miss out on this way to save money with the FlashFood App because you don't have a dehydrator!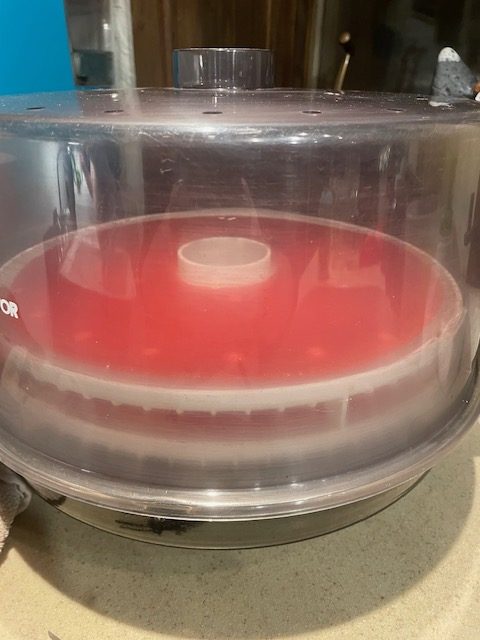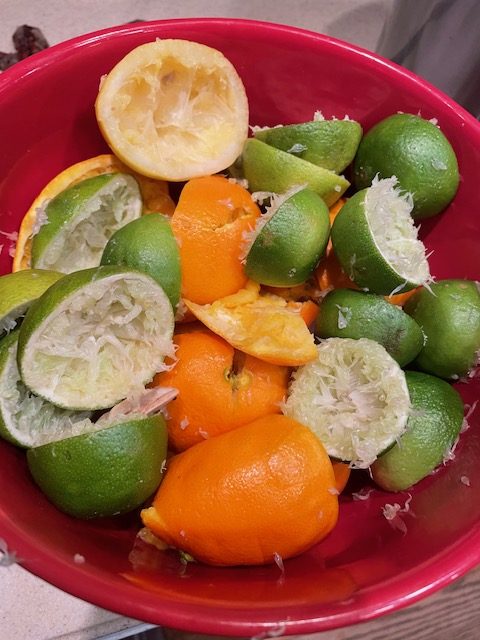 5. Make juice to freeze 
If you get the produce boxes, you'll likely get a nice variety of things. We took the lemons and limes, juiced them with our commercial manual juicer and poured the juice into ice cube trays. 
Now, when we have a recipe that calls for a tablespoon of lemon or lime juice, we will have it ready to go. When the ice cube trays are frozen, we just label a freezer bag and drop them all in. 
We love these 
trays
.
 You get a 4 pack for about $11, they have lids and they make it so easy to pop out the cubes! These trays will last you forever if you take care of them, and it's a great way to get started preserving food and making even more use of the buys you get when you save money with the FlashFood App!
When you're done with ALL of those things, you can COMPOST! Who doesn't love some great matter to throw in the compost bin and start cooking up some great soil for next year's garden. 
Enjoy all of these ways to save money with the FlashFood App, keep perfectly good food out of the dump and take that money you saved to put towards something else! Save money with the FlashFood App!
Looking for other ways to save money? Check out How to Use 5 Gallon Buckets for Food Storage!
Advertising Disclosure: Bargaineering may be compensated in exchange for featured placement of certain sponsored products and services, or your clicking on links posted on this website.